November 25, 2020
The Maine and National Centers for Disease Control are advising all U.S residents to limit Thanksgiving gatherings in an effort to slow the spread of COVID-19. Specifically, they are asking that we all limit the number of guests at family gatherings, create an environment where distancing is possible, consider gathering outdoors, consider virtual gatherings, and to clean and disinfect frequently touched surfaces. The CDC recommends that clear expectations are communicated to guests before they arrive and that those expectations are followed to the letter during the gathering. Do we really need to do all that here in the Katahdin Region where we only have a few confirmed COVID-19 cases? The short answer is, yes, we do.
One respondent to the CDC Thanksgiving recommendations posted this statement on the CDC website:  "No virtual. No masks. No social distancing. Defy the COVID restrictions and live without fear."
It is this type of uninformed, baseless, and cavalier attitude that will prolong the pandemic in the United States. Contrary to the sentiments of the writer above, a little fear can be a great motivator and can lead to clear thinking and better decision making. I'm not naïve enough to think I can change this person's thinking – I'm pretty sure that ship has sailed. But I am hopeful that I can provide some objective data on the current situation right here in the Millinocket area that will help you think clearly about the risks at hand this Thanksgiving and not be as reckless as the person above.
Let's take a quick look at November 2020 in Maine:
On November 1st, there were 1014 active COVID cases in Maine. Today (November 25th) there are 2245. That's a 121% increase in just 25 days.
In Penobscot County, there were 35 active cases on November 1st. Today there are 232! That's an increase of 563%.
And lastly, on November 1st, 147 Maine residents had died from COVID-19. Today, that number has increased to 190. We have lost 43 more Mainers in the last 25 days; 12 just yesterday.
At MRH, we study the local test results daily. I can confirm that we have positive cases locally – right here in the tri-town region where you live.
Contrary to the writer above who feels we should defy the CDC recommendations and "live without fear", I offer a more prudent approach:
Know the virus, Fear the virus, Attack the way the virus spreads.
Following the CDC guidelines doesn't make you weak, it gives you the tools to fight. The writer above isn't a fighter, he's a lazy fool that has chosen to roll over and let fate decide whether he contracts the virus or not – good thinking there, sounds like a great plan doesn't it?
Be a fighter – protect yourself and your family this holiday season!
In conclusion, I hope that we will all be able to celebrate a second "Day of Thanks" on Thursday, December 3rd (December 3rd is seven days after Thanksgiving – the incubation period for COVID-19.) If we can all follow the CDC guidelines tomorrow and keep each other safe, we can avoid infection and additional spread of the virus. Now that would be something to be thankful for this year!
Despite all the challenges we have faced in 2020, all indications suggest that 2021 will be markedly improved! That hope alone should help us look forward to better times and be thankful for what is to come – Happy Thanksgiving Everyone!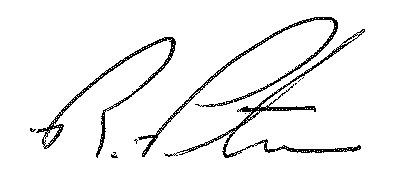 Robert Peterson, D. Sc., FACHE
Chief Executive Officer