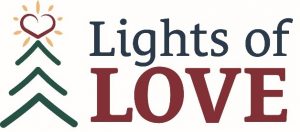 Celebrate those you love. Honor those you miss.
During the festive season, take time to celebrate and honor the special people who shine brightly to your heart—people who you love dearly and those you miss greatly, especially this time of the year.
 

What is Lights of Love?
Lights of Love is a special holiday fundraising program to benefit care at Millinocket Regional Hospital. Make a donation of your choice in honor or memory of a loved one and dedicate lights on the MRH stunning Lights of Love tree located at The Bandstand in Veteran's Park in downtown Millinocket. Our stunning tree will sparkle with hundreds of lights, glittering like jewels as poignant tributes to those who have been honored– continuing a proud tradition originally established by the hospital auxiliary.
While we hoped to have a Lights of Love tree dedication event, it has been canceled this year due to the persistent increase of COVID cases within the Katahdin Region.  We will continue to honor loved ones through the Lights of Love; we just will not be holding an in-person event to do so.  Thank you for your understanding.

  Who can participate?
Everyone! Our Lights of Love is open to all—patients, family members, Katahdin Region residents and visitors, former residents of the Region – everyone who wants to remember a loved one.

  How do I participate?
Simply complete the 2021 Lights of Love form, indicating the color of light(s) you would like to dedicate and the name(s) of the person(s) you would like to honor. Return your form with payment information. You are invited to our Lights of Love online celebration through the MRH website—home of our lights of Love roll call of honorees. We list the honoree and individual making the gift of love!

 What is Legacy Medical Foundation?
Legacy Medical Foundation was established in 2020 to continue the tradition of philanthropy at Millinocket Regional Hospital by supporting patient care, wellness, and the quality of life in our region. We are a 501(c)(3) organization with a tax identification number of 85-2352634.

200 Somerset Street, Millinocket, Maine 04462 • (207) 723-7419 • www.mrhme.org