By Robbie McKay Lincoln News • April 16, 2020
MILLINOCKET – The CDC issued new guidelines on Monday to add another layer of protection for hospitals and their staff against the corona virus.
The CDC is now recommending that all individuals entering a healthcare facility should wear masks to avoid the spread of the virus by people who may not be exhibiting symptoms of the illness yet. Patients and visitors are asked to wear a cloth mask that they may already have in order to ensure a sustainable supply for the hospital. Those who do not have them will be provided one by the facility at the time of their arrival. Thanks to the selfless actions of many community volunteers, Millinocket Regional Hospital is prepared to handle a surge of patients and has an adequate supply of personal protective equipment (PPE) at this time to do so.
Seamstresses are committing to and delivering cloth masks to the hospital which are providing an added benefit in the battle against the Covid-19 virus. These masks can be laundered and reused to help extend the supply needed to safely serve the hospital's community. Katie Mackin, Marketing Director for MRH acknowledged the hard work of the volunteers.
"It's amazing…I don't really know who all of them are," she said. "These masks will be dropped off, and sometimes we can't tell who made them," she said.
MRH Chief Nursing Officer, Mary Tatro, RN, has touted this as "an extra line of protection" and stresses this will be used in conjunction with approved N95 respirator masks; not as a substitute.
Healthcare providers across the country are using homemade cloth masks in conjunction with their N95 respirator masks help prolong the life of the mask. The idea behind this is that the cloth mask acts as an additional barrier and layer of protection. These homemade masks can be easily changed out throughout the shift as necessary and laundered for re-use.
Bob Peterson, Chief Executive Officer for MRH, stressed the importance of wearing a mask anytime you venture out into the public.
"If more people are wearing masks in the community, it will help slow or decrease the spread of this disease," he said. "Even the highest rated masks can't provide 100% protection, so wear your mask in addition to maintaining a 6ft distance and washing your hands frequently," Peterson said.
Not only are local people in the tri-town area sewing masks, but MRH was also contacted by a group called the Island Falls Area Face Mask Project. They have 100 masks ready for MRH, and another 100 are scheduled for delivery later this week. Part of "Sewing Masks for Maine," it is a "co-op", with people sewing masks to add to a supply that is then parceled out to hospitals in need. The organization has different groups operating around the state with multiple coordinators for each county.
In all of this, MRH wants everyone to know how much their help is appreciated.
:We have an amazing community that rallies in tough times. So it's no surprise that we've had inquiries from local seamstresses who are willing to step up to the plate and donate their time, skills and supplies to provide homemade cloth face masks and re-usable isolations gowns," Mackin said.
"This support, in itself, is such an incredible gift.," said Mackin.
How to Wear a Cloth Face Covering from CDC website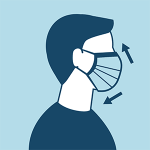 Cloth face coverings should—
• fit snugly but comfortably against the side of the face
• be secured with ties or ear loops
• include multiple layers of fabric
• allow for breathing without restriction
• be able to be laundered and machine dried without damage or change to shape
###
About Millinocket Regional Hospital
Millinocket Regional Hospital (MRH) is a 25 bed Critical Access Hospital nestled at the base of Baxter State Park that provides vital healthcare services to those who live, work and play in the Katahdin Region. Beyond the friendly staff and award-winning patient care, MRH provides an impressive range of specialty and general services; with a recent expansion resulting in the addition of eight new specialties and a Walk-In Care facility. In 2018, MRH was awarded the Press Ganey 'Guardian of Excellence Award' for exceptional patient experience; a nationally-recognized symbol of achievement for hospitals who consistently perform within the top 5%. Providing jobs to approximately 250 people, MRH is the largest employer in the Katahdin Region and a crucial economic driver within its community. For more information, please visit www.mrhme.org or www.facebook.com/MillinocketRegionalHospital