December 21, 2020
Millinocket, ME – Two like-minded organizations have joined together to enhance the patient experience at Millinocket Regional Hospital (MRH). Bangor Savings Bank has made a $9,000 gift to support replacement of all inpatient room televisions with state-of-the-art flat screen televisions.
The Inpatient Room Television upgrade is an initial step towards improving the patient experience at MRH and will immediately benefit our patients who are more often facing long stays in the hospital.  The new televisions will be equipped with 'smart TV' technology that integrate internet connectivity and will offer a larger, sharper picture for an improved visual experience.  Patients will be able to access cable television as they always have but will have additional options for entertainment and relaxation, such as watching shows and movies on-demand, listening to music or even playing games.  This is essential to occupying the patient's time and helping to reduce loneliness when family or friends are not visiting.
With this new technology, the TVs will have increased functionality and can include patient education, MRH health care announcements, and wellness tips that are managed centrally to better coordinate communications that will enhance patient-centered care; ultimately transforming bedside televisions into a valuable resource for patients and staff alike.
Once completed, the replacement of all 16 inpatient room television sets with flat screen TV's, commercial grade remotes and hardware will provide a better patient experience for those in our care.  The $9,000 project has been fully funded by Bangor Savings Bank, a longtime supporter of Millinocket Regional Hospital.  During a recent meeting with bank representatives, Legacy Medical Foundation president Michael R. Crowley presented a proposal for their consideration.
"We're happy to be able to assist Millinocket Regional Hospital with this new technology purchase" stated Isla Dickerson, Director of Marketing and Community Relations for Bangor Savings Bank.  "We're hopeful that these new televisions will allow for a more comfortable and informative stay at MRH."
Mary Tatro, RN, Vice President of Patient Services and Chief Nursing Officer at MRH, emphasized the importance of these upgrades and their impact on the overall patient experience.
"A positive patient experiences starts with something as simple as communication.  Patients find it very frustrating when they don't understand what the doctor or nurses are trying to explain regarding their plan of care," Tatro said.
She continued, "The TVs will allow us to stream information directly into the patient's room that can assist with communication regarding disease process, medications or upcoming procedures.  We know that some patients process information better visually.  Others benefit from being able to watch or hear the messaging numerous times.  This technology will help us accommodate those patient needs.  It won't replace in-person communication but rather serve as a tool to greatly enhance it."
The nursing team at MRH look forward to the installation of the TVs and further development of patient communication systems as it aids their goal and the overarching MRH strategic effort to enhance patient experience.  Moving to this new technology platform is crucial to immediately improving the patient experience and provides opportunities for further growth of the communication systems.  This Bangor Savings Bank gift impacts everyone within the MRH service areas north and south of Katahdin.  It'll elevate care for a generation.
Facilities director Dale McLaughlin indicated that installation of the smart televisions will be completed early in 2021.
This initial phase was funded in its entirety by Bangor Savings Bank.  A combination of community support, grant funding and sponsored support will be used to raise the full amount of the projected cost for the second phase of this project: communications systems replacement and installation.  The timeline is subject to reaching funding target.  Individuals and other funders who wish to assist patients in the Katahdin region should contact Legacy Medical Foundation, the philanthropy center for MRH.
To request more information on this and other innovations contact the foundation at MRH contact Legacy Medical Foundation, Michael R. Crowley, president at 207-723-7419 or mail inquiries and contributions to the foundation at 200 Somerset Street, Millinocket ME 04462.  You can conveniently give online at www.mrhme.org/giving.
END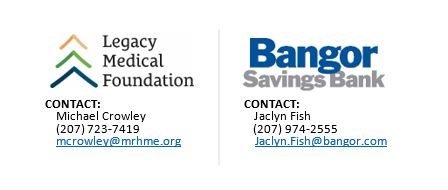 Legacy Medical Foundation was established in 2020 to continue the tradition of philanthropy at Millinocket Regional Hospital by supporting patient care, wellness, and the quality of life in our region. We are a 501(c)(3) organization with a tax identification number of 85-2352634.