by Robbie McKay, The Lincoln News
Millinocket Regional Hospital held its 34th Annual Employee Service Awards ceremony and annual employee/family picnic on Thursday, September 7. Twenty seven employees with a staggering combined 635 years of service were celebrated, of which half of them were recognized for their 20+ years of service to MRH and the people of the Katahdin region.
Ruth Bossie, in-patient unit and Judith Knowlton, OR, have served for forty years and they top the list of the longest serving employees of MRH. They are closely followed by many others who have also served for 5, 10, 15, 20, 25, 30, and 35 years. (For the complete list of all award recipients, see MRH's announcement honoring them in this week's issue of the Katahdin Region/Lincoln News). All these employees have exhibited dedication and hard work to MRH and the community, and are an integral part of the success story that the organization continues to build.
The 2017 Department of the Year award went to Diagnostic Imaging who were also honored at the event. The department of the year is selected by the previous year's winning dept. In this case, all employees within the 2016 Department of the Year, Environmental Services, was asked to cast their vote for department of the year and provide clear evidence supporting their choice. Some of the department attributes considered during the nomination process include: level of support and collaboration consistently exhibited toward other departments; willingness to assist other departments when possible; positive attitude toward MRH and consistent effort toward meeting MRH's mission; community involvement and consistently marketing MRH's services to the community, delivering a consistently high level of customer service; going above and beyond to serve their patients and their communities; and delivering consistent high quality performance in their particular discipline. Top notch patient care, friendliness and dedication to MRH, patients and the community were just a few of the reasons given by their nominators of why they were so deserving of this. These individuals are also listed in the announcement from MRH in this week's paper.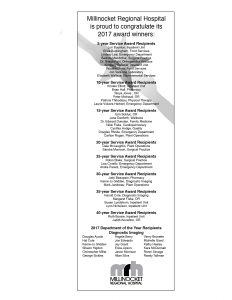 ###
About Millinocket Regional Hospital
Millinocket Regional Hospital (MRH) is a 25 bed Critical Access Hospital nestled at the base of Baxter State Park that provides vital healthcare services to those who live, work and play in the Katahdin Region. Beyond the friendly staff and award-winning patient care, MRH provides an impressive range of specialty and general services; with a recent expansion resulting in the addition of eight new specialties and a Walk-In Care facility. In 2016, MRH was recognized as the Cleanest Hospital in New England by Becker's Hospital Review and received a five star rating on the Medicare Quality Scale. Providing jobs to approximately 250 people, MRH is the largest employer in the Katahdin Region and a crucial economic force within its community. For more information, please visit www.mrhme.org or www.facebook.com/MillinocketRegionalHospital