MILLINOCKET – "My idea of exercise is a good brisk sit," comedian Phyllis Diller suggested once.
Comedian Ellen DeGeneres declared: 'I really don't think I need buns of steel. I'd be happier with buns of cinnamon."
Fitness and exercise, however, are no laughing matters for 92-year-old Harold Higgins of Millinocket, nor the approximately 172 other folks who are members of the LIFEstyle Fitness Center of Millinocket at 899 Central St., Millinocket. At 92, the spry looking Higgins is believed to be the oldest person using the fitness center and is part of a father-son (Steve) duo who work out regularly at LIFEstyle.
Higgins is different than most his age. He is among the 23 percent of Americans who actually do get enough exercise to maintain a healthy life style. Higgins is at the gym every morning its open, working out for at least an hour on the recumbent bike, the rowing machine and most of the other equipment. (To achieve a healthy life style the Center for Disease Control and Prevention (CDC) recommends that a person exercise at least 150 minutes per week.) Higgins does it in spades based on his weekly attendance record.
A regular at the gym for the past five or six years, Higgins calls LIFEstyle "…a God-send. I don't know what I'd do without it. It gets me out of the house, starts the day for me." And then there is the opportunity to hash over sports events and talk about other things, he explains, as he and his gym buddies engaged in animated conversations about the day's events.
Higgins, like other members, agrees: a town as small as Millinocket, with a population of just a little more than 4,000, is lucky to have such a modern, well equipped facility so close at hand.
Peter King of Millinocket, another regular at the gym, echoes Higgins' views. He has been exercising at the gym for more than a dozen years and comes nearly every day for at least an hour.
LIFEstyle has been at the Central St. location for more than a decade, although many people do not realize it. The non-profit LIFEstyle Center is an outgrowth and expansion of FORM, a rehabilitative facility started by Millinocket Regional Hospital in 1987 on Connecticut Ave. in Millinocket. LIFEstyle continues to operate as a division of MRH.
For many years FORM served the area's major employer, Great Northern Paper, served injured GNP workers in need of rehabilitative services and served the community as well.
After moving to the Central St. location in 2007, FORM changed to LIFEstyle Fitness Center to better reflect what the center does in relation to its three major components, fitness/exercise, pool therapy and rehabilitative work. People sometimes wonder why a facility, such as LIFEstyle, is so important. The reason is simple. The four leading causes of death in Maine are: cancer, heart disease, stroke and chronic respiratory disease.
The CDC has declared that eating healthier and increasing physical activity can lower the risks for these major causes of death. Toward that end LIFEstyle has cardiovascular and strength training equipment, plus a heated pool, plus a qualified and friendly staff able to assist people in meeting their fitness goals.
The center has more than eight different types of exercise equipment located in five areas of the air-conditioned gym, plus locker rooms where members can shower and change clothing.
Members' reasons for being part of LIFEstyle are many and varied according to a recent survey conduct by the center. Reasons include: maintain heath, build muscle, lose weight, doctor's orders, help manage stress or depression, personal attention from staff and variety of equipment available. Members also appreciate the top-notch, friendly staff, appreciate the fact the staff can help them develop a personalized program, and because going to the center provides them with an opportunity to socialize with like-minded people.
The center emphasizes that it welcomes men and women of all ability levels, from the beginner to the established athlete. Those using the facility regularly range in age from 16 years old to 92. Under 16-year olds may use the facility but must be accompanied by an adult. Average daily attendance is 68, but during college break time that figure can increase. Local teachers often use the gym after school.
The atmosphere created by the staff and those using those using the equipment at LIFEstyle gym can be summed up in one word – friendly. A shared quick smile, a wave, a nod of the head, a brief conversation, or a friendly hello, seem to create a level of comfort and camaraderie, camaraderie Higgins talked about in a recent interview.
Bradley Wheaton and Mary Pinette are the certified personal trainers at the gym. They are certified through the American Council on Exercise. That means they have met all the requirements of the council to develop and implement fitness programs for individuals who have no apparent physical limitations or special medical needs. Rounding out the friendly and experienced LIFEstyle staff is fitness assistant, Deidra Perrow, who has over 28 years working for MRH in the Wellness department. Filling in when needed is recently hired fitness assistant, Rob MacKenzie.
Overseeing the operation of the LIFEstyle center is Jane Danforth, director of grants and community wellness. She holds both master's degrees in public health and education. Center hours are Mondays-Fridays 6 a.m. to 7 p.m. and Saturdays (until May 2019) 7 a.m. to 11 a.m.
LIFEstyle is a strong supporter of the communities it serves. That was forcefully demonstrated recently when its rest rooms, its showers and changing rooms were made available to the marathon runners who flocked recently to Millinocket for the fourth annual running of the half marathon and the full marathon.
More information about the LIFEstyle Fitness Center and its fee structure is available by calling (207) 723-6454 or emailing the facility at wellness@mrhme.org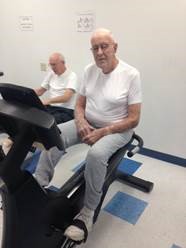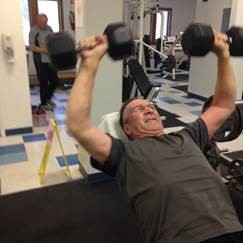 Harold Higgins getting ready to exercise and Peter King doing some heavy lifting
Special thanks to our LIFEstyle Fitness member who wrote this piece but wishes to remain anonymous.