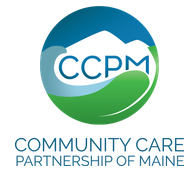 BANGOR, ME – Millinocket Regional Hospital (MRH) and ten other community healthcare organizations across the state have joined together to form Community Care Partnership of Maine (CCPM), an Accountable Care Organization collectively committed to improving the quality and effectiveness of health care delivery in Maine and reducing unnecessary healthcare costs.  CCPM members are dedicated to improving the health and wellbeing of Maine residents by coordinating available health resources and identifying practices that are proven to have the best results for their patients.
Millinocket Regional has partnered with the following organizations to fulfill this shared mission: Penobscot Community Health Care (PCHC), St. Joseph Healthcare, Mayo Regional Hospital, Sebasticook Family Doctors, Cary Medical Center, Pines Health Services, Katahdin Valley Health Center (KVHC), Portland Community Health Center, Nasson Health Care, and DFD Russell Medical Center.
Kenneth Schmidt, MPA, CEO of Community Care Partnership of Maine, says, "CCPM's members are all capable and independent community health care organizations which are wholly committed to ensuring the delivery of high quality and effective health care to the people of their communities in a manner that is cost effective and promotes better health outcomes."
Bob Peterson, MBA, FACHE, CEO of Millinocket Regional Hospital, states; "As individual consumers of healthcare services, we all hope to maintain good health for as long as possible and remain independent in our own homes.  Our primary focus at MRH is to help our patients achieve this goal. Our new affiliation with CCPM will allow us to share and develop best practices with other healthcare providers dedicated to the same objective.  It will also allow us to partner with other regional healthcare services in the area to better support our patients in their home environment and avoid unnecessary and expensive hospitalizations."
CCPM partners are mission-based and local community-based health care organizations.  They are focused on improving the health of the communities they serve by working together to transform the delivery of healthcare through meaningful support and learning in order to help their patients be as healthy as possible.  Partners commit to working collaboratively to achieve this goal to share best practices, maintaining or achieving stringent national quality standards including patient care management, providing extended office hours, and proactive utilization of electronic medical records for preventive care.
Millinocket Regional Hospital, through CCPM, is participating in the MaineCare Accountable Community and in the Medicare Shared Savings Accountable Care Organization. MaineCare and Medicare patients may continue to utilize the services of Millinocket Regional and both programs are focused on the goals of the national "Triple Aim": improved patient outcomes, improved patient experience, and reduced health care costs.