By Robbie McKay    Lincoln News • February 21, 2019
MILLINOCKET – Millinocket Regional Hospital is pleased to announce the addition of Dr. Paul Smith to its staff.
Dr. Smith has been part of Bangor OB/GYN for over 15 years, and has over 40 years of clinical practice. Katie Mackin, Marketing Director for MRH is excited about the new relationship and the expanded medical coverage it will provide for the Katahdin region.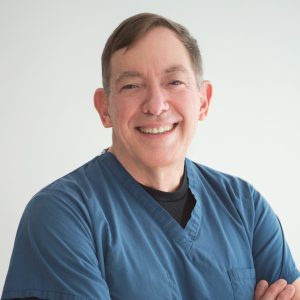 "News of our partnership with Dr. Smith has been extremely well received. Any of his patients I've spoken to can't say enough good about him. After sitting down with him, I can understand why. He is easy to talk to and his calm, gentle demeanor paired with his immense knowledge and humbleness are both comforting and reassuring," Mackin said.
Dr. Smith will be providing routine healthcare as well as care for vaginal and urinary tract infections, abnormal or heavy bleeding, hormonal disorders, birth control and pap smears to name a few. He will also be partnering with the MRH surgical team to offer outpatient laparoscopic and vaginal surgical procedures.
"My goal in coming to Millinocket is to make the GYN specialty available to people in the region so that one person drives instead of a lot of people driving," Dr. Smith recently said. "I hope to manage things on an outpatient basis, do some ambulatory surgery. (The) bigger stuff I'll need to do at home base, but if we can make things more convenient for the people of the region, that's the nice thing to do," he said.
Kelly Gardner, PA-C, works in MRH's Primary Care Center and was instrumental in bringing Dr. Smith to the region.
"I have had the experience of working with Dr. Smith as a colleague and as a patient. He is extremely knowledgeable, professional, and personable. He has a way of making you feel comfortable and he demonstrates how much he cares about you as his patient through his interactions and his attention to detail. I think he will be a great addition to the Millinocket Regional Hospital family," Gardner said.
Amanda Whirty, RN, agrees with Gardner.
"I have known Dr. Smith for a little over 12 years when he first became my OB/GYN. He has always been more than fantastic. He is so friendly, easy going, knowledgeable, and as uncomfortable as those appointments are- you feel comfortable. He explains everything to you at a level you understand," Whirty said. "His passion for caring for others and accommodating his patients is amazing…I absolutely love Dr. Smith and look forward to working with him," she said.
Dr. Smith's next visit to MRH will be March 14. Patients wishing to schedule an appointment with Dr. Smith should call Bangor OB/GYN at 945-6588 and request to be seen at the Millinocket clinic.
###
About Millinocket Regional Hospital
Millinocket Regional Hospital (MRH) is a 25 bed Critical Access Hospital nestled at the base of Baxter State Park that provides vital healthcare services to those who live, work and play in the Katahdin Region. Beyond the friendly staff and award-winning patient care, MRH provides an impressive range of specialty and general services; with a recent expansion resulting in the addition of eight new specialties and a Walk-In Care facility.  In 2018, MRH was awarded the Press Ganey 'Guardian of Excellence Award' for exceptional patient experience; a nationally-recognized symbol of achievement for hospitals who consistently perform within the top 5%.  Providing jobs to approximately 250 people, MRH is the largest employer in the Katahdin Region and a crucial economic driver within its community.  For more information, please visit www.mrhme.org or www.facebook.com/MillinocketRegionalHospital