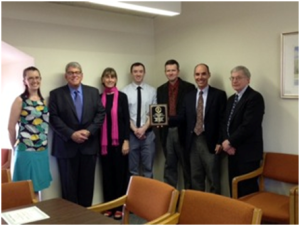 On Saturday, May 3, 2014, the Maine Association of Physician Assistants (MEAPA) awarded the Millinocket Regional Hospital with their OUTSTANDING HEALTH CARE PROFESSIONAL AWARD. It was presented to our emergency room physician assistant group which is not typical as it was received as a group award rather than as an individual award.
This award is another testimony to the outstanding care and dedication our patients receive from the clinicians at Millinocket Regional Hospital. All of our PAs were in attendance with the exception of Kevin Olsen, PA-C, who was on duty at that time and Joseph Aquilina, FNP. The nomination for the award was submitted by William Jenkins, MD, for their exceptional quality of care, knowledge and teaching skills, and for their ability to promote the PA profession while contributing to the improvement of healthcare in the state of Maine. Those who were recognized are, Christopher D. Blanchette, PA-C, Shaun M. O'Connor, PA-C, Kevin R. Olsen, PA-C, Andre' C. Parent, PA-C, and Douglas A. Rhoda, PA-C, and Joseph Aquilina, FNP.
This is an incredible honor that is well deserved by all of our physician assistants in our emergency department and is a true testament of quality award winning health care that's close to home.